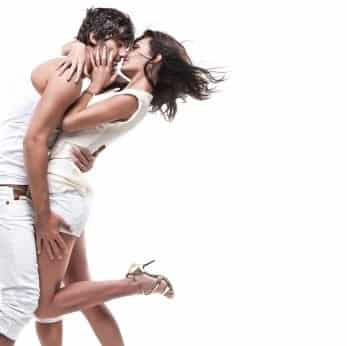 WELCOME
Welcome to Dating-Vergleich.com – the serious and critical comparison site for singles exchanges, dating portals and contact platforms of all kinds.

PHILOSOPHY
We would like to give you an overview and provide orientation in the world of contact exchanges. In doing so, we always try to report neutrally and factually. Feedback from members or former users is always welcome and explicitly requested. Through comments and ratings you help other visitors to form an opinion. We would therefore be very pleased if you would help other singles with a rating or a comment. This helps other visitors a lot in their search for a partner.
TEST CRITERIA
Number of members
Seriousness of the appearance
Members activity
Member audit
Women's quota
Search filter
Costs & Fees
Functionality
Usability & operation
Free services
Privacy
Feedback from members
Online Dating Phenomenon
Partner search via Internet fully in the trend
Online dating is on everyone's lips. Anyone who is single and has the desire for a partnership has certainly already dealt with the topic of singles exchanges and online dating.
More than 11 million people are now looking for a partner for life or new acquaintances or love affairs on dating and singles portals.
Until a few years ago, it was still somewhat difficult to admit that you met your partner on the Internet. Meanwhile, this is one of the most normal and common developments in the choice of a partner and no longer a taboo subject that it is better to keep behind the scenes. Those who date online and have had success with it also stand by it. Numerous success stories and reports are witness to this.
Contact portals under test
Singlebörsen & Dating portals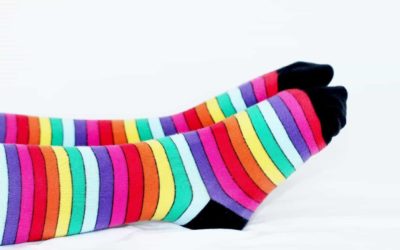 Classic dating sites for traditional heterosexually oriented love are a dime a dozen. But what about if you're one of those people who feel like they belong to a minority community like LGBTQ (Lesbian, Gay, Bisexual, Transgender and Queer) and polyamory?
Then the search for a suitable counterpart is often much more difficult. Like-minded people are severely underrepresented in the general singles exchanges and large dating portals with a heterosexual orientation.
A virtual haven for a young, open generation beyond a monogamous relationship construct – that was the mission of the two founders Tobias Betschart and Tobias Knaus when they launched the first free love portal on June 3, 2020.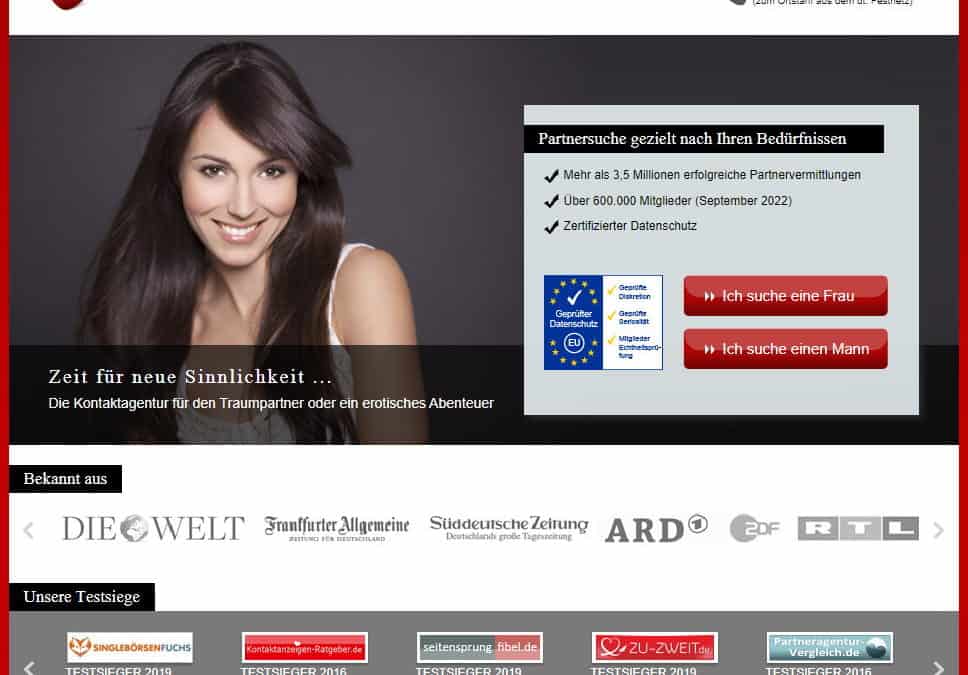 Lovepoint.co.uk - contact agency in test and comparison [Rating:85/100] [mks_button size="small" title="TEST NOW"...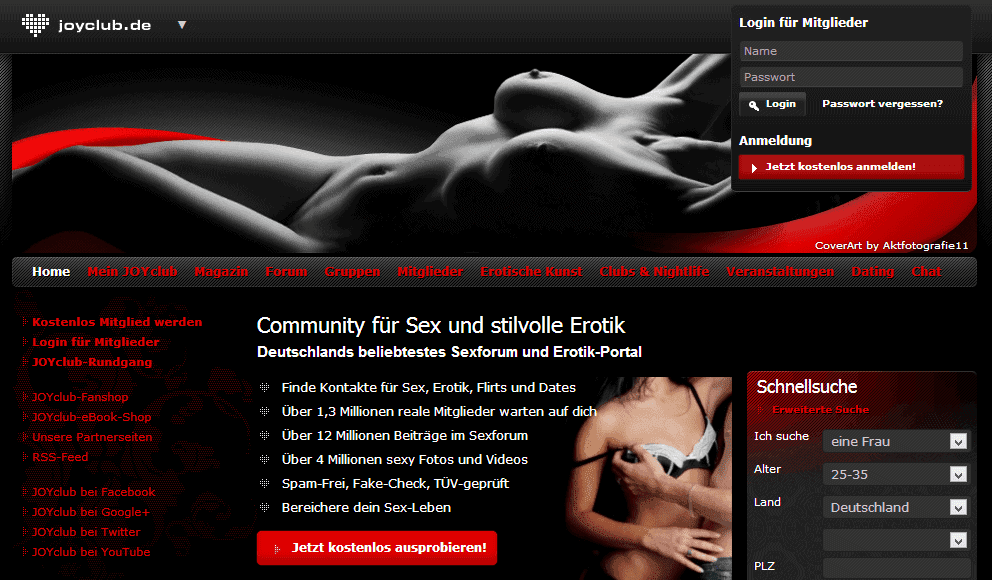 JOYclub - Versatile erotic portal in test and comparison [Rating:95/100] [mks_button size="small" title="TEST NOW FREE...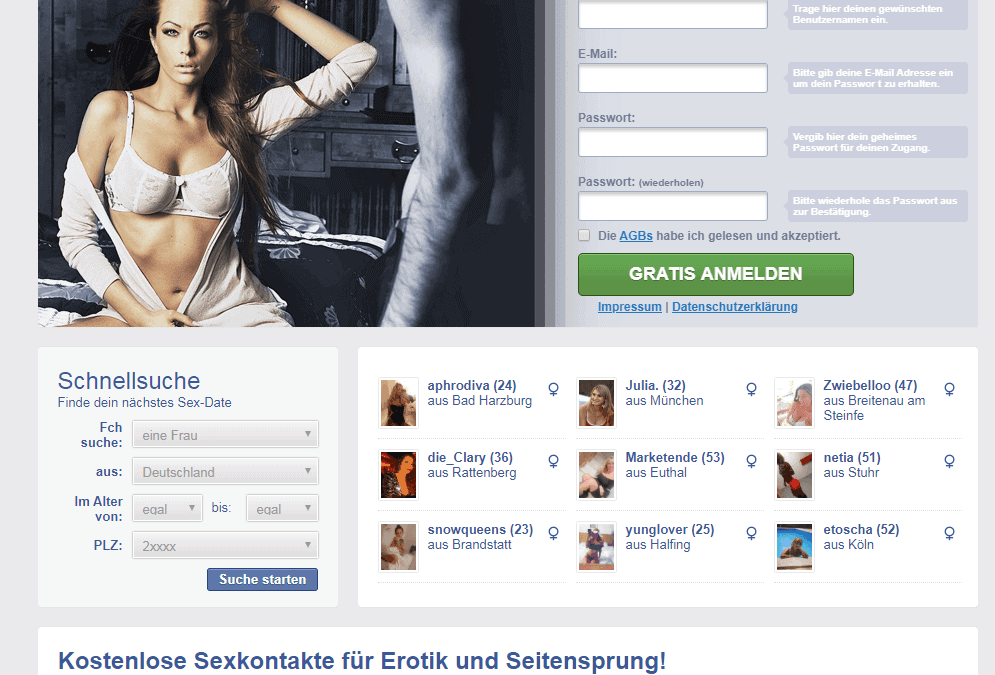 Eromeet is a free erotic community with FakeCheck verified members and extensive community functionality. The special thing about this sex portal is that everything is 100% free. There are no hidden costs. Besides eroticism, love and friendship also play a role in this community.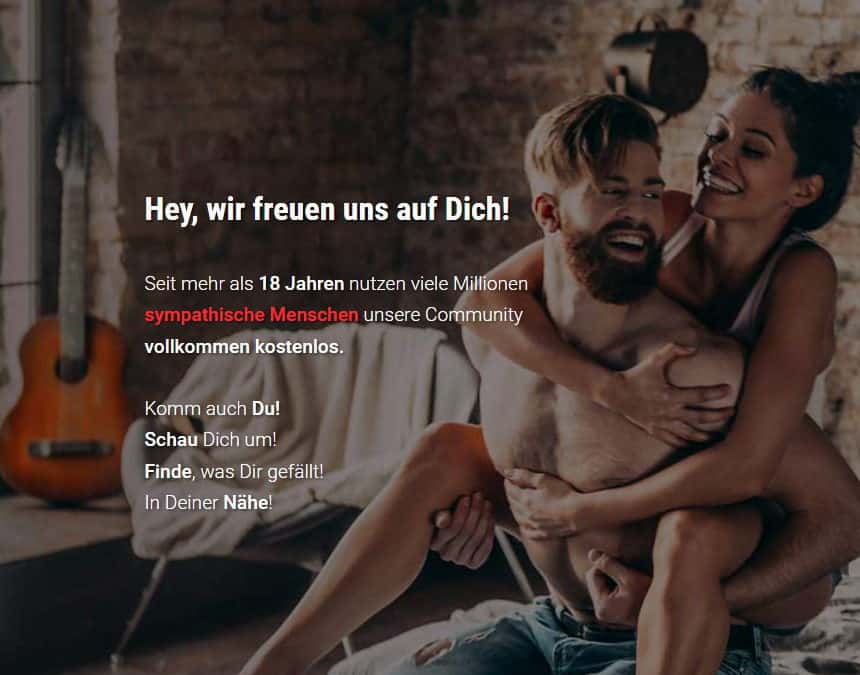 The name already reveals what Poppen.de is all about. Sure, about the most beautiful minor matter in the world: sex! Of course, you can also find a relationship on Poppen.de, but other singles exchanges are much better suited for this. Because on Poppen.de the most uncomplicated sex possible is in the foreground.
THE EVOLUTION OF SINGLEBÖRSEN & CONTACT PORTALS
Online dating is still extremely popular and is used by young and old to initiate contact and get to know singles and new people. According to an annual study on the online dating market conducted by Singlebörsen-Vergleich in 2018, a staggering 8.6 million monthly users are browsing German online dating sites. It can be assumed that just under one in three Germans is now looking for a partner on the Internet. The number of uncancelled memberships on German contact portals is 135.7 million accounts. While the number of monthly users has remained stable for years and appears to have reached a plateau, the number of memberships continues to grow linearly. This shows that the trend is toward more than one membership.
The triumphant advance of smartphones and mobile Internet has once again spurred this positive development. Dating apps and contact exchanges that function well on mobile devices are especially popular.
Another achievement of partner exchanges is that marginalized groups in particular are now better able to find each other. For example, in the past, an 80-year-old woman with preferences for very young men had almost no chance of actually meeting one. The door has also opened for people with special characteristics or special inclinations who, for example, lived in rural areas with a low population density, to find a promising partner.
Even though there has been an increasing concentration on a number of large, well-known and highly professional dating portals over the last few years, which is to be welcomed from the user's point of view thanks to more activity and greater flirting and dating opportunities, numerous niche portals have held up well and even developed.
It is estimated that by 2030, around 35% of all couples will have met or fallen in love through the Internet. This development clearly shows that the taboo topic "we met on the Internet" no longer exists. The prejudice that "if you can't find anyone else, look on the Internet" has also long since become obsolete. Educated people with high school diplomas or university degrees in particular are increasingly using dating portals.
Through singles and dating sites, the Internet connects people looking for like-minded people, for love, friendship and the person for life.
Our dating comparison should give you an overview. The search for a possible permanent partner or a fleeting erotic acquaintance is not always easy. More and more people are therefore turning to online dating to get to know a potential partner, and it is becoming increasingly popular. In the numerous flirt and singles exchanges, dating agencies, side jump agencies and sex exchanges, more and more men and women are romping around looking for a suitable partner to.
Keeping track of the constantly growing number of contact exchanges is becoming increasingly difficult. Which contact platforms are recommended? Which sites to avoid? This question is asked by many singles who would like to meet someone.
This is where our dating comparison helps. Because with the now large number of singles exchanges and contact portals, there are quite a few differences. These are important to know before choosing a contact exchange.
Relationships & Partnership
Sexual pleasure, eroticism & intimacy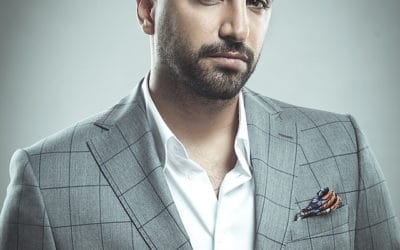 Meeting a rich man is the dream of many women. Rich singles (whether men or women) are highly sought after on the dating market and often idolized. So, to stand out from the...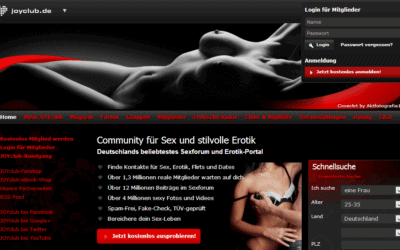 JOYclub - Versatile erotic portal in test and comparison [Rating:95/100] [mks_button size="small" title="TEST NOW FREE OF CHARGE" style="rounded"...
FREE AND PAID CONTACT EXCHANGES
Many offers on the Internet can be used free of charge and do not require any financial commitment for the search for the great love or for a sexual adventure. But also paid singles and sex exchanges are often found. These often stand out due to a greater variety of functions or better service, and the chances of finding a suitable partner and falling in love successfully are also higher. However, this is not always true, as some free dating sites have impressively proven.
SPECIAL SINGLEBÖRSEN
In addition to the established contact portals and dating agencies that we encounter almost daily in the media, there are now highly specialized sites and contact points for partner seekers on the Internet (e.g. for meat-free vegans, especially tall/small people, for seniors, for academics, for rich people, for heavy metal disciples, for farmers and nature lovers, animal lovers, and many more…).
In the big colorful dating jungle, there are now almost no unoccupied niches. In this way, everyone can find themselves with their individual characteristics and preferences and find a group of like-minded people.
In addition to the classic singlebörse for the general public, there is, as mentioned, a constantly growing number of special singlebörsen such as special or alternative partnerbörsen for single parents, homosexuals, people with disabilities, people who belong to a certain scene or but also contact portals to search for a fling or a sexual adventure. In this way, certain criteria or preferences are set right from the start and the partner search is greatly simplified.
More and more often, you also hear about the term "casual dating". These include, above all, erotic contact exchanges, which are intended to facilitate uncomplicated and non-binding meetings, and escapade agencies.
Online dating is becoming increasingly popular, especially in metropolitan areas and large cities. Dating, getting to know each other and flirting has become much easier for singles from Berlin, Munich, Hamburg, Cologne, etc.. Online, they arrange to meet at many self-organized singles meetings, singles events or speed dating events.
WE WISH YOU GREAT EXPERIENCES AND A SUCCESSFUL PARTNER SEARCH
We keep our fingers crossed that your participation in online dating will be crowned with success. Our dating comparison is designed to help you find a partner and provide you with honest and simple decision-making tools in the dating jungle. This way you can save valuable time and save your wallet.
Please feel free to share your experience with us. Please use our comment function or our contact form. You are also welcome to share your experiences with used contact portals here on our website with other visitors (comment function in the corresponding post/test report). At the same time, you can rate contact portals on a scale from 1 to 10.
If you need help with online dating or flirting, we recommend you take a look at our online dating guide and if you are unclear about terms related to flirting, online dating or the world of erotic contacts, our flirting and dating glossary will help you.
Also, please do not hesitate to let us know what you think about this online offer. We are always open to criticism and suggestions for improvement.