C-Date.de – casual dating website in test and comparison
Overall impression: Rating:
On the online dating website C-Date (Casual Date) you can find sophisticated singles who are looking for erotic contacts. Here, more value is placed on longer-term contact than on a one-time fling or one-night stand.
The website is especially suitable for singles who place a high value on anonymity and discretion.
Since the launch of the singles exchange in 2008, the number of members has almost exploded. However, this is probably due in large part to the fact that C-Date is increasingly relying on TV advertising. Currently, around 1,600,000 German singles are registered with the dating portal. The ratio of males to females is 53 to 47 percent. So that's relatively balanced. However, it must be said that membership is free for women, while men have to pay a monthly amount to access all services.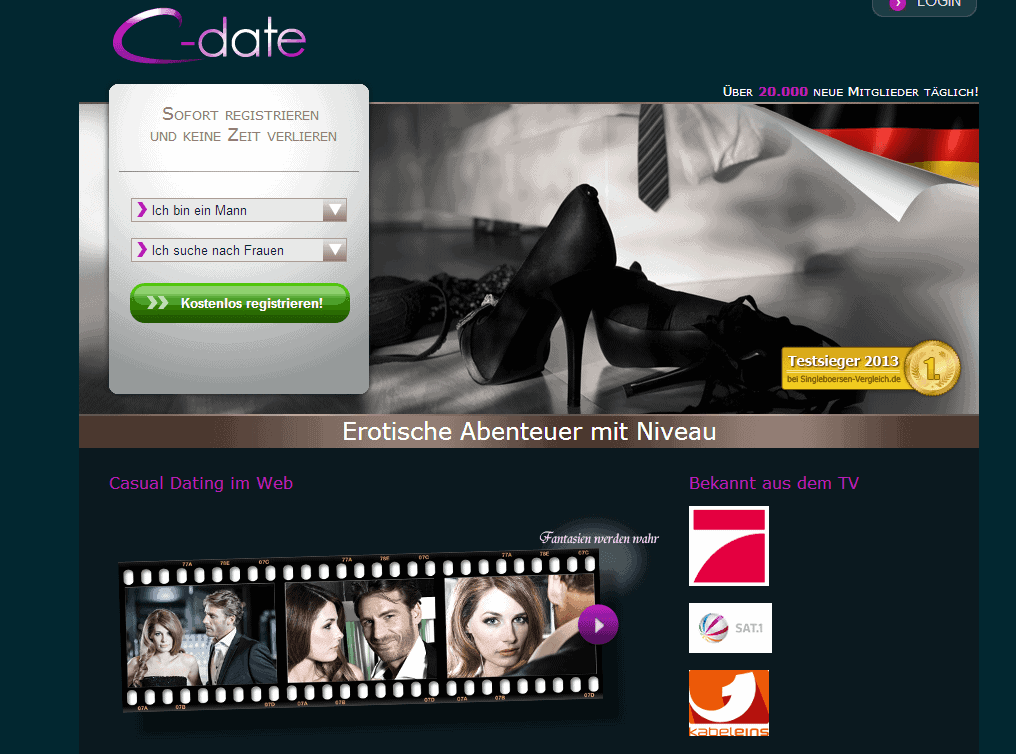 What does casual actually mean?
If you want to explain this term in a nutshell, you could describe it as "relationship without commitment". So both sides are clear that the fun factor comes first. An erotic relationship, so to speak.
The registration takes place at the singles exchange without any problems. After clicking on the confirmation link in the email, you can immediately access the services. First, however, a profile must be created. For this purpose, some information about the person (age, hair color, height, weight, etc.) and personal sexual preferences are provided.
Technically, C-Date is kept very simple. The operation works intuitively and the website is also clearly and tidily designed.
What about communication with each other?
One negative thing to mention is the fact that no custom text can be created. Furthermore, it is not possible to search for contacts yourself. The contact suggestions are taken over exclusively by the system.
A message can be replied to with a maximum of 1 500 characters. With C-Date, it is not possible to determine whether a sent message is actually read. In addition, there are five preset text messages, which, however, say rather little and do not represent a personal subject.
Free services:
Registration
Create profile
Receive messages from other members
Premium members can use without restrictions:
View photos and send messages to other members
TOP:
Relatively high proportion of women
Creating a profile is very simple
Many active users
High membership growth thanks to advertising
Quick and easy registration
Discretion and anonymity
Clear structure of the website
For women free of charge
FLOP:
No free design of own texts in the profile
It is not displayed whether messages have been read
Missing display about activity of users (when they were online last)
Costs & Prices:
If you take out a membership for 3 months, the monthly costs are 39,90 Euro
A contract for 6 months costs 29.90 euros per month
The cost of an annual membership is 19.90 euros per month
Membership is free for women, however they cannot contact other women or couples
| | | |
| --- | --- | --- |
| Overall impression | | Rating: |
| | | |
| Number of registered members | | Rating: |
| | | 1.6 million German members, approx. 10,000 registrations per day |
| Activity/authenticity of members | | Rating: |
| | | Open-minded members with contact intentions |
| Privacy & Security | | Rating: |
| | | German data protection standards, anonymity and discretion are writ large |
| Member audit | | Rating: |
| | | |
| Women's quota | | Rating: |
| | | m 47% : w 53 %, better than the competition |
| Search filter | | Rating: |
| | | Extensive |
| Costs & Fees | | Rating: |
| | | Premium: from 19,90 EUR / month, free for women |
| Features & Functionalities | | Rating: |
| | | Mediation suggestions, smart tools, Europe-wide contacting |
| Usability & operation | | Rating: |
| | | Good design and usability, Keep it Simple principle |
| Free services | | Rating: |
| | | For women completely free, for men the registration |
| Feedback members | | Rating: |
| | | Relatively many active women |
Rating by visitors of Dating-Vergleich.com (only 1 vote per visitor possible):