JOYclub – Versatile erotic portal in test and comparison
Rating:
JOYclub is an erotic portal that has made a name for itself with a variety of subcategories. So there are fetishes in all variations, which are lived out together, in pairs or alone, in groups as well as in forums and online chats.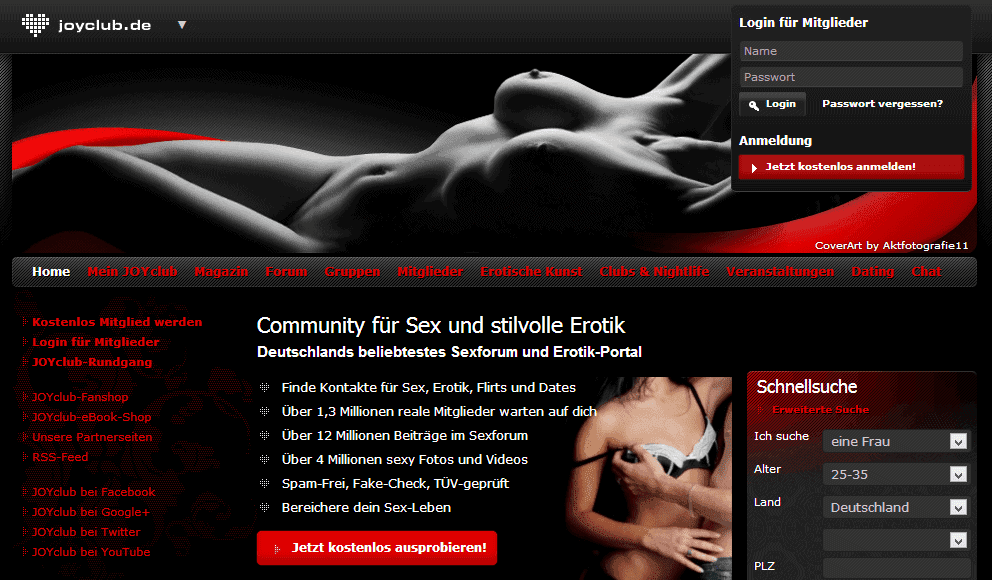 Erotic community
JOYclub deals primarily with sexual passion and stylish eroticism. Also, there is a possibility for members to post ads looking for potential sex partners for frivolous meetings. The erotic portal has been awarded the TÜV seal and has managed to create the necessary basis of trust among its members for these discreet concerns.
It is further characterized by an enormous variety of functions as well as a high activity of genuine members. In addition to the usual community features such as messaging system, profiles, search, guestbook, JOYclub offers much more (including a sophisticated voting system to explore mutual sympathy, a messenger, online chats, bulletin board, personals, favorites system, specials to contact, groups, as well as a great platform for online strip poker using webcams. There is also a mobile-optimized version of the website.
Voting
In all profiles, you will find three small icons in the upper right area, with which you can briefly and concisely assess for yourself how you liked the corresponding profile. Through this rating, you can later find the profiles in your personal overview.
The own voting list is not visible for the other members and a negative vote is not shown to you and other members. Since you only receive the positive feedback, it is very close to a compliment – a non-verbal contact that does not obligate you to anything.
Voting is intended to make it easier for users to find other members who may be equally likeable in terms of profile; it is not a JOYclub barometer of a member's popularity or pictures, etc. Voting is not a competition, but a simple way to express and receive sympathy.
Magazine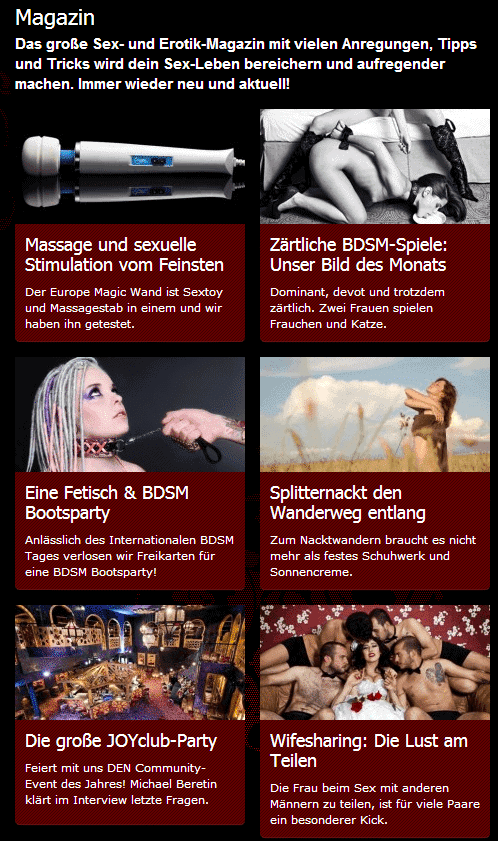 Screenshot: The JOYclub Magazine
Among all subcategories there is also a regularly published magazine. Here, the company-affiliated editors inform all members comprehensively, regularly and in detail about news from the sensual world of eroticism. The entertaining articles deal, among other things, with toys (Toys) and locations (including clubs, etc.). But also practical tips and tricks, for example to deal appropriately with possible bad experiences, are published here.
However, since the entire magazine is accessible to all members, the reader may come across information that absolutely does not correspond to their own fetish. For example, one or the other reader may see images or information that he or she does not personally like.
Erotic Forum
The topics for discussion are as wide-ranging as the magazine and its subcategories – from issues of a medical nature to sexual recommendations and experiences, almost everything is discussed here. By means of erotic portal serious conversations can be held on a high level.
The members involved describe their experiences in detail. Events are also created and announced via the erotic forum. These are available to anyone interested, whether a member or not.
Erotic art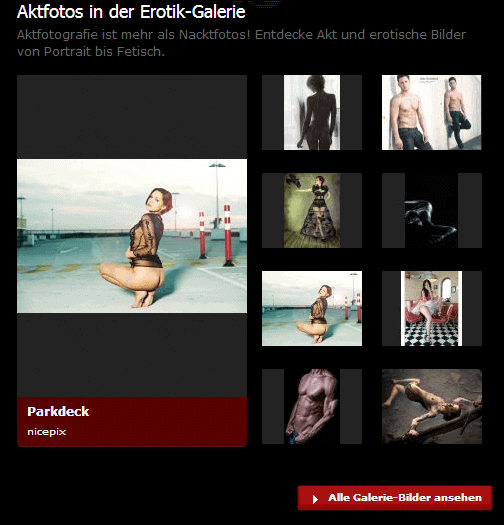 Screenshot: Erotic photography on JOYclub
Uploading sensual and stimulating videos as well as photos is not only allowed, but explicitly desired. It allows you to live out another preference. Nudes, lingerie photos, portraits, fetish or pinup pictures can be presented.
It is also possible to publish videos. Starting from amateur videos to artistically valuable photo contests, everything is possible in terms of voyeurism. For artists, models and photographers, the JOYclub platform offers an extremely creative breeding ground in terms of stylish eroticism.
Strip poker
JOYclub has come up with something very special here. JOYPoker is, so to speak, the somewhat different meeting place for poker enthusiasts.
The game is played with up to 8 players according to the rules of Texas Hold'em. However, losing all the chips does not necessarily end the game. At certain tables it is possible to win back some chips from the bank by stripping via the webcam or by revealing strip images.
All JOYclub members can participate in normal poker. However, if you want to participate in Strip Poker, you have to be a verified or Plus member.
Clubs and Nightlife
JOYclub keeps an extensive list of regional swingers clubs and erotic locations ready for its members. These are also presented in detail. This way, you as a member can quickly find out which individual preferences – such as burlesque or SM – are served and acted out in the respective club.
But not only swingers clubs, but also localities and night bars, where everything can and nothing must, are made accessible to the member. The administrators also keep members constantly updated with interesting information about events with a sexual background.
Free services (basic membership):
For men and untested women & couples:
Registration
Create profile with photo
Receive and reply to messages
Limited search function
Read magazine
Discuss in the forum
Participate in chat (only with authenticity check)
Voting function
Erotic art
Participation in regular online poker
For verified women & couples (Free PLUS membership):
These functions and offers are available in addition to those of the basic membership (see above).
Send your own messages
Place personals and dates
View private photos and videos (except FSK18)
Activation for the strip poker
Premium members can use unrestricted (in addition to basic functions):
Read and write messages
Forward franked box number letters
Use public chat
Use private chat
Browse profiles and shared photos (unrestricted)
Create private photo albums
Preference in search results
Create your own chat rooms
10% discount at parties and clubs
TOP:
Contact possibility to over 1.3 million members
Free basic membership
One of the largest forums around sexuality and eroticism
Versatile interested groups
Suitable for singles, swingers, couples, photographers, transsexuals
Space for art and creativity
High authenticity, functioning member verification, few fakes
High level is aimed for
High discretion and 100% anonymity via ClubMail
Many nationwide events and erotic parties
Cutting edge online erotic magazine
Unsubscribe at any time by click
Recommended in the Ciao.com consumer test
High ratings on eKomi
Official website managed in Germany
TÜV certified data protection
Great Strip Poker Platform
JOYclub Messenger
High authenticity, functioning member verification, few fakes
Good chat functions
Many features and extras
Well thought-out structure of the website, helpful tips and instructions
Fair prices, discounts for several months of use
High transparency and clear GTC
No automatic contract renewal if not desired
High data protection standards, trustworthy Internet presence
Customer support by mail and phone
FLOP:
Community requires a little start-up time and effort to be accepted and integrated by other members
Costs & Prices:
"PLUS Membership" for men and untested women & couples.
1 month: 19,90 €
3 months: 44,70 € (14,90 € per month)
6 months: 59,40 € (9,90 € per month)
"Premium Membership" for men and untested women & couples
1 month: 24,90 €
3 months: 59,70 € (19,90 € per month)
6 months: 89,40 € (14,90 € per month)
"Premium Membership" for verified women & couples
1 month: 9,90 €
3 months: 23,70 € (7,90 € per month)
6 months: 29,40 € (4,90 € per month)
Payment options:
All major credit cards (MasterCard, VISA, American Express, etc…)
Direct debit
Bank transfer
Paypal
Cash deposit
Notice periods:
JOYclub uses the common subscription model. However, there is no period of notice. Under your profile management, you can cancel your subscription at any time before it expires. To avoid overlapping with the automatic renewal, the subscription should be cancelled at least one day before the end of the subscription period.
You can also cancel individual paid options and preserve your profile. When booking, you have received login data at NetDebit. You can now use this to cancel a subscription directly online. The subscription will then expire at the end of the paid period, your profile will remain.
If you no longer have your login details with NetDebit, you can also contact this provider by phone or email.
Conclusion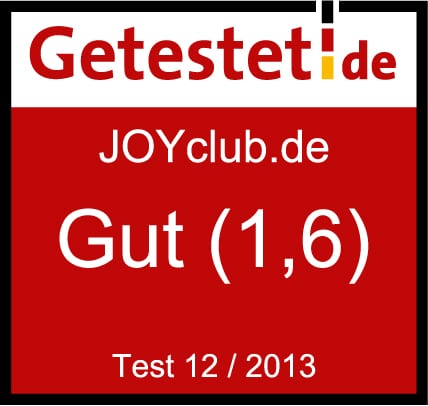 JOYclub.de seal of approval from getestet.de
If you are looking for a great and serious erotic portal with stylish eroticism, a wide range of events, various fetishes as well as a huge erotic forum, then JOYclub is the right place for you. More than 1.3 million members from Germany, Switzerland and Austria are proof of the success and triumph of this platform.
Here you will experience a wide and varied exchange with members of all kinds. Also, the portal is nourished by a large number of long-standing and loyal members.
People with a fancy fetish – just like swingers of all kinds – also meet many like-minded people here. This is the ideal way to integrate sexual preferences into daily life. It is hard to find points of criticism. JOYclub also achieved an excellent result on getestet.de (see test seal) and is also our test winner in the category "Swinger Portals" and "Erotic Portals General".
| | | |
| --- | --- | --- |
| Overall impression | | Rating: |
| | | The "Facebook" for erotic friends |
| Number of registered members | | Rating: |
| | | over 1.3 million members |
| Activity/authenticity of members | | Rating: |
| | | High activity & serious members |
| Privacy & Security | | Rating: |
| | | German data protection standards, clear GTC, TÜV-certified, anonymity and discretion |
| Member audit | | Rating: |
| | | Editorial authenticity checks |
| Women's quota | | Rating: |
| | | ~ 39% male / 31% couples / 30% female |
| Search filter | | Rating: |
| | | Extensive search filters |
| Costs & Fees | | Rating: |
| | | Free basic membership, relatively inexpensive premium offers |
| Features & Functionalities | | Rating: |
| | | A real wealth of functions: magazine, forum, community, events, clubs, strip poker, voting, and much more… |
| Usability & operation | | Rating: |
| | | modern design, simple operation, good overview |
| Free services | | Rating: |
| | | |
| Feedback members | | Rating: |
| | | Many satisfied, longstanding members |
Rating by visitors of Dating-Vergleich.com (only 1 vote per visitor possible):