Lovepoint.co.uk – contact agency in test and comparison
Rating:
The offer of the contact agency and dating site Lovepoint addresses "woman" and "man" with differentiated offers in each case. The women can choose between the search variants DREAM PARTNER, EROTIC ADVENTURE or BOTH. For ladies all services are free of charge.
For the gentlemen of creation, the variants DREAMING PARTNER, EROTIC ADVENTURE and BOTH – the latter as VIP membership – are available.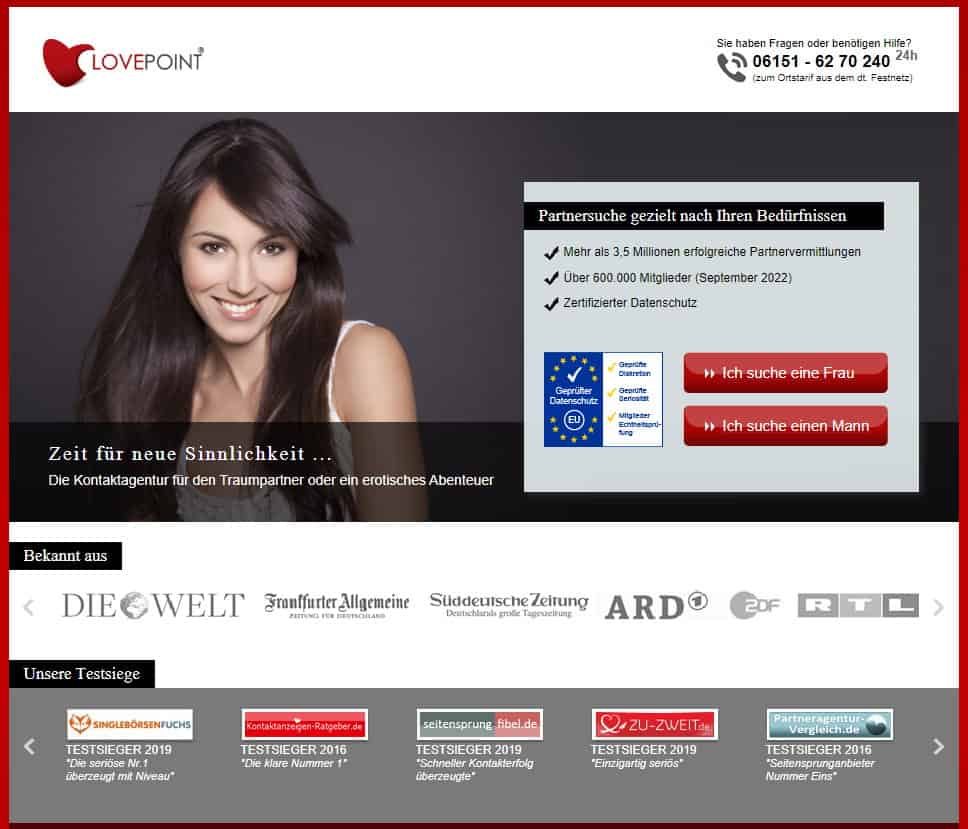 The "Dream Partner" and "Erotic Adventure" memberships can be taken out for three, six or twelve months. The VIP membership is only offered for 12 months, but the fee is the same cost as the 12-month membership of the other variants.
The contract is not automatically renewed – a nasty trap that lurks with some singles exchanges – is thus eliminated. In addition, members can "take a break"; those who do not want to use the services temporarily do not pay for that time. This should be praised, as it is a unique selling point of this platform.
What is Lovepoint all about?
The offer is aimed at singles with a serious desire for a partner as well as people in relationships who are looking for a high-class fling or a discreet affair.
As of March 2015, the contact exchange has around 500,000 members and can look back on more than 3.5 million successful partner placements in 2014.
What makes Lovepoint stand out?
The provider for erotic adventures and flings can show a TÜV-certified data protection and attaches great importance to anonymity, discretion and a consistently professional processing of its offer. The membership structure is characterized by an above-average attractiveness and a share of women of about 65% is impressive and ensures excellent prospects for success in dating for men.
In the dating comparison, however, this dating platform stands out in particular for its extensive protection against fakes . The appearance of the profiles is already manually checked for seriousness during registration. With the help of special software systems, a team of employees constantly ensures a clean, high-level member area.
Member profiles that come to light during these checks will be shut down immediately. By the way, the portal guarantees that all registered members are also active – deadbeats should thus be largely excluded.
What is the registration process?
Registration is largely anonymous : personal data is limited to gender, date of birth, postal code and email address. Anonymity is also maintained when entering personal data; you only enter your first name.
In the member profile, the first name is replaced by a desired name and the date of birth by the age, of the zip code only the first two digits appear. A free email address from Lovepoint can be used for contact with suggested members, the personal email address remains unknown if desired.
The identity and privacy of the members thus remain very well protected.
Functionality
Another plus point is the scientifically based "matching" (mediation principle) . As a basis for the placement proposals, a psychological personality assessment is prepared, which is also made available to the member for his or her own orientation. A flirting chances calculation helps to optimize your own profile.
In addition, contact suggestions are determined based on a comparison of interests . The use of an internal contact database – for which members can be activated – and video chat offer further contact opportunities. The telephone coaching by a scientifically led team and the 24-hour telephone hotline support members with many questions and problems that may arise in connection with the partner search and contacts with other members.
An average of 6 contact proposals are submitted per month; limiting the number of proposals is intended to prevent members from feeling overwhelmed by contact maintenance and is probably also intended to increase the intensity of contacts. A nice principle, which clearly distinguishes itself from superficial portals focused on many loose contacts.
The singles exchange is aimed specifically at the "30+" group of people. In the dating comparison, the 36 to 45 year old men as well as women were found to be the most represented age group.
Free services:
All services are free of charge for women.
Services for model "Erotic adventure":
Anonymous registration
Own profile with photo, audio and video gallery
Anonymous partner search
Matching on an interest basis
Individual search criteria
Surrounding search
Partner suggestions (unlimited)
Receive contact requests (unlimited)
Contact (unlimited)
Anonymous mailbox system
Multi and private text chat
Video chat
Audio chat
Anonymous SMS service
Anonymous phone calls
Individual success promotion
Car Parts Protection
Level controlling
Pause option
Free photo scanning service
Ignorelist
Friends list
Antifake Guarantee
Mediation guarantee
Contact guarantee
Services for model "Dream Partner" (in addition to the functions mentioned under "Erotic Adventure"):
Personality Test (Scientific)
Personality assessment
Matching on a psychological basis
TOP:
Registration completely anonymous possible
Antifake Guarantee
No disclosure of personal data to third parties
Photo, video and audio profile elements can be activated separately for each user
SSL certified
Payment completely anonymous possible
Scientifically based personality test
Contact and mediation guarantee
100% of all contactable members are ACTIVE users and can respond
High transparency of all contract components
24 hour support
Personal and success-oriented support
Very high proportion of women
Psychological matching
Flirting chances calculator
No file corpses
High level
Ignore function for unwanted profiles
Easy operability of all functions
Surrounding search
Highly functional communication options
Attractive profile design options
Customer coaching by experts
E-mail and SMS notification system
No subscription system
Pause and termination possible at any time without notice
Bonus system
Money back guarantee
FLOP:
Unfortunately no trial offer for men
Duration for placements can be protracted
Unsuitable for young singles under 30 who rather just want to flirt casually
Costs & Prices: (as of September 2022)
Dream Partner Membership:
3 months: 149.70 EUR (49.90 EUR / month)
6 months: 239.40 EUR (39.90 EUR / month)
12 months: 298.80 EUR (24.90 EUR / month)
799.00 EUR / lifetime
Erotic Adventure Membership:
3 months: 149.70 EUR (49.90 EUR / month)
6 months: 239.40 EUR (39.90 EUR / month)
12 months: 298.80 EUR (24.90 EUR / month)
799.00 EUR / lifetime
VIP membership (dream partner + erotic adventure membership for men):
12 months: 298.80 EUR (24.90 EUR / month)
Payment options:
Credit card (MasterCard, VISA)
Direct debit
Bank transfer
Contract and termination:
Memberships do not renew automatically, there is no subscription model. A pause or termination is possible at any time without notice with a simple mouse click.
Coupon for Lovepoint:
Unfortunately there is no Lovepoint coupon available at the moment.
As soon as we have current coupon codes we will publish them here. If you would like to be notified immediately about the arrival of new coupons for this dating platform, just send us a short email with the subject "Coupon for Lovepoint" and we will email you as soon as they become available.
Customer service and contact address:
Simply use the following contact for inquiries or to cancel your profile in writing:
Networld Projects Ltd.
PO Box 101129
64211 Darmstadt
Germany
E-mail: support[at]lovepoint.de
Telephone hotline: 06151 – 62 70 240 (24 hours a day).
For example, you can use this free template from Aboalarm for the cancellation.
You can find more information on your valid right of withdrawal and on contractual details for partner exchanges on the site of the consumer center Hamburg . It also provides information on other pitfalls in the digital world for partner seekers to prevent financial risks.
Frequently asked questions (FAQs) about Lovepoint:
What is free at Lovepoint?
For men, registration and profile creation is free of charge. We have researched the free and paid features for men at Lovepoint. This list can be found in the corresponding section further up this page. We also make a cost and fee breakdown (see above).
For women Lovepoint is permanently completely free of charge.
Is Lovepoint reputable?
Lovepoint has been active for over 15 years and is one of the largest platforms for casual dating, flings and affairs in Germany with over 600,000 members. Due to targeted approaches and free features, around two-thirds of members are women. Discretion and data protection are a top priority at Lovepoint and have been certified by TÜV Saarland. Profile pictures are only visible to a user after they have been activated. The manual control of all profiles works well and keeps fake profiles away from the dating site as far as possible.
Is there a Lovepoint app for cell phones?
Currently, Lovepoint does not have a separate app for iPhone or Android smartphones. However, the contact exchange can also be used conveniently on a mobile basis via a responsive website. An app for a fling portal actually doesn't make much sense, since the user wants to enjoy discretion, which is counteracted by an app on the smartphone.
How good are the chances of success for a real erotic adventure?
The high percentage of women offers men good chances to find a partner for an affair or a long-term sexual partnership. Carpools are successfully removed by operators, as users are paused or banned after prolonged inactivity.
Lovepoint's internal level controlling ensures a high level of communication. However, discretion and good manners are absolute prerequisites for a successful dating experience. Therefore, don't jump right in with unusual requests, but communicate in a friendly, open and patient manner. Everything else then follows step by step.
Often used search terms and typos
lafpoint, loovepoint, lavepoint, luvpoint
Conclusion
Lovepoint is a serious, trustworthy and highly professional contact agency with a strong focus on protecting the anonymity, privacy and discretion of its members. The variety of functions is high, the membership structure attractive and sophisticated. We estimate the members' chances of success in finding a partner to be far above average.
| | | |
| --- | --- | --- |
| Overall impression | | Rating: |
| | | highly professional contact agency with great member protection |
| Number of registered members | | Rating: |
| | | approx. 620,000 members from Germany |
| Activity/authenticity of members | | Rating: |
| | | active members |
| Privacy & Security | | Rating: |
| | | High data protection standards, TÜV certified |
| Member audit | | Rating: |
| | | Functioning member check |
| Women's quota | | Rating: |
| | | ~ m 40% : w 60% |
| Search filters | | Rating: |
| | | Average search filters |
| Costs & Fees | | Rating: |
| | | mid-price segment |
| Features & Functionalities | | Rating: |
| | | Great and sophisticated functionality |
| Usability & operation | | Rating: |
| | | good overview, very user friendly, easy to use |
| Free services | | Rating: |
| | | free membership for women only |
| Customer Service & Support | | Rating: |
| | | exemplary customer service, 24-hour hotline |
| Feedback members | | Rating: |
| | | many successful placements |