Poppen.de – Erotic contact exchange in the test and comparison
Rating:
The name already reveals what Poppen.de is all about. Of course, around the most beautiful secondary matter in the world: Poppen or better said sex!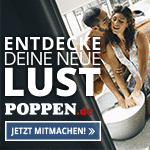 Of course, a relationship can also be found on this free sex exchange, but other singles exchanges are much better suited for this. Because on Poppen.de the most uncomplicated sex possible is in the foreground. Free sex contacts are the goal of the majority of members.
According to the operators, the free sex exchange has a total of over 3,600,000 members and an average of 300,000 visitors, as well as 270,000 logins and 550,000 private messages per day. In the evenings, an average of around 20,000 members are online and active at the same time.
So the numbers speak for a very active and lively community. Behind Poppen.de sits also exceptionally no large company but only 3 guys who have built this community and meanwhile with the help of other members have formed a team to keep the Seitensprungbörse further up to date. They have managed to make this sex exchange grow to a considerable size without a big backer.
On Poppen.de all members are entitled to read and write messages free of charge as well as to browse all profiles and view pictures. However, if you want to access the FSK-18 pictures/videos of the members, have more than 5 free SMS available or just want to be preferred in the search results and the mailboxes you have to book either the premium membership or the slightly better V.I.P membership for relatively little money.
Then it will be easier to find a partner or a partner to pop in this otherwise basically free sex exchange.
Due to the self-developed phone number verification system, there are virtually no fakes among the Premium and V.I.P. memberships. However, the fakes among the free members are all the higher. So there is a little caution to be taken when dealing with free members.
Unfortunately, the level of online chat and private messages is not very high.
I wonder if it's because of the name. Women are spoiled for choice, but it is not always easy to find quality sex contacts.
Usual are mails a la "Bock zu ficken?", "Hast du MSN?" und "Wann hastn du Zeit für mich?". However, if you're primarily looking for sex, you're still in very good hands there. As a man, it's not always easy, either, due to the many competitors and the ladies' overcrowded mailboxes. However, with a high standard and an appealing profile, as well as a fake check, you stand out considerably from your competitors.
Unfortunately, there is still no gender balance. But if you put in a little effort as a man, then you have a real chance of real sex contacts. A little effort, commitment and level are finally a prerequisite for real sex contacts in every sex exchange. After all, you have to earn an invitation to pop here, too.
So if you can live with a certain fake rate among the free members and the high proportion of men, you'll be in good hands here. However, uncomplicated sex as a man is almost only possible here if you approach the whole thing level-headedly.
Women, however, in search of sex contacts are certainly in good hands on Poppen.de, provided that the lady
copes with the sometimes occurring lack of level.
To increase your chances as a man you should book a Premium or V.I.P. membership,
which is relatively inexpensive compared to other providers from this area. Another big advantage is the non-existent notice period. Thus, you certainly do not take a big risk on Poppen.de.
Free services (basic membership):
Registration
Create profile with photos videos (Max. 5)
Secret photo gallery
Authenticity check
Personal search settings incl. Video search
Favorites list (Max. 5)
Blink 3 times a day (contact by click)
Display of the last 5 profile visitors
Receive messages
Send messages
Write to 10 new members per day
Access to the message archive, message filter
Send friend requests (Max. 50 friends)
Participation in video chats
Forum participation
Browse profiles and shared photos (exception: FSK18)
Messenger
5 free SMS per day
Personal @poppen.de email address
Participation in surveys
Premium members can use unrestricted (in addition to basic functions):
Display of the last 50 profile visitors
Unlimited wink
FSK18 check
See webcams in video chat
Message History
Watch shared videos
"Message already read?" function
Access to advanced profile functions
Be able to view response rate
Send message with image
10 free SMS per day
Write to new members without restrictions
Guestbook
Secret video gallery
Fill out interview
Advanced statistics
View friends of other members
Secret video gallery
View "Meet Me Here" Profile Area
Leave 20 guestbook entries per day
Photo search area search
Upload up to 15 videos
Access to the Premium Forum
"Who is online?" list (sortable)
Participation in the photo contest
Create events
Invisible on Poppen.de
Up to 100 friends
Up to 50 favorites
View all Top100 lists
Advertising free use
VIP members can use unrestricted (in addition to premium features):
Display of the last 150 profile visitors
Preference in the "Who is online" list
Preference in search results
Preference on the home page
Preference in the "Similar members" box
15 free SMS per day
Leave 30 guestbook entries per day
Upload unlimited videos
Save up to 6 search settings
Access to the VIP forum
Telephone support at local rate
Up to 500 friends
Up to 100 favorites
TOP:
Free membership or free writing and receiving private messages
Comprehensive range of services included in Premium and V.I.P. membership
Uncomplicated and fast registration
high activity level of flirting members
Well visited chat rooms
Very good forum! High activity and also free of charge
Very favorable compared to the competition
Well suited for homosexuals and couples
Women have a wide choice and definitely find the sex contact they are hoping for
No notice periods
An integrated blog that always serves with current information
Separate identification of members with financial interests
Nicely implemented pop roulette (random video chat)
Good filter options for the search function
Mobile version of the website available
FLOP:
Very high proportion of men
Fakes among the free members
Level sometimes leaves something to be desired
Now & then technical difficulties
Costs & Prices:
1 month premium membership: from € 3.49
1 month VIP membership: from 7,49 €
You can choose between a membership for one month, three months, six months or one year. With a longer term you save up to 46% of the premium.
As long as you do not cancel the contract, it will be automatically renewed for the selected period. There is no period of notice.
Payment options:
Credit card (MasterCard, VISA)
Direct debit
Payment by invoice (bank transfer or cash deposit)
Billing via the provider Compay
Billing via the provider ClickandBuy
The payment is handled discreetly. The account statement simply says "onabo" and the amount you pay for your membership. You will not find any references to Poppen.de.
Contract & Termination:
If you pay by direct debit, credit card or ClickandBuy, the membership is automatically extended by the selected period. However, you can cancel your membership at any time.
In case of payment by invoice (bank transfer or cash deposit) the membership will not be extended.
Conclusion
A free membership at this sex exchange is definitely worth a test for men as well as for women. This sex contact exchange has a lot of members and its chat rooms are also well visited. As a woman, you can't expect the highest level, but women will easily find what they are looking for when it comes to sex contacts. For contacts to pop, men have to make a little more effort. A paid upgrade is recommended to increase the chances of real sex contacts.
| | | |
| --- | --- | --- |
| Overall impression | | Rating: |
| | | Test winner in the category: Erotic dating sites |
| Number of registered members | | Rating: |
| | | over 3,600,000 members, of which approx. 15,000-20,000 are usually online at the same time |
| Activity/authenticity of members | | Rating: |
| | | High activity in chats and forums, fake profiles among free members, partly financial interests |
| Privacy & Security | | Rating: |
| | | Clear GTC, no hidden costs |
| Member audit | | Rating: |
| | | Only for Premium and V.I.P. members |
| Women's quota | | Rating: |
| | | Very high proportion of men |
| Search filter | | Rating: |
| | | Limited as a free user, but TOP as a paying customer |
| Costs & Fees | | Rating: |
| | | Basic membership completely free of charge, premium memberships very favorable compared to the competition |
| Features & Functionalities | | Rating: |
| | | Online chat, video chat, SMS, forum, blog, search function for events, swingers clubs and parking lot sex. |
| Usability & operation | | Rating: |
| | | Easy to use and simple design, Keep it Simple principle, sometimes technical difficulties |
| Free services | | Rating: |
| | | Usable free of charge as a basic member with sufficient functions to contact you |
| Customer Service & Support | | Rating: |
| | | Telephone support at local rate for VIP members |
| Feedback members | | Rating: |
| | | Opinions differ widely in some cases. Women predominantly positive, men partly negative |
Rating by visitors of Dating-Vergleich.com (only 1 vote per visitor possible):