It doesn't matter if you're both sitting in different corners of the same room typing on your smartphones, or traveling long-distance hundreds of miles away in different cities or foreign countries. With a few sexy lines you not only show your boyfriend that you miss him, but at the same time you can text a lot of anticipation and stimulate the imagination so beautiful . School of Squirt included this practice as a part of their sexy teasing guide."
Just start by spontaneously leaving some dirty talk text messages and see where that gets you. Perhaps you are now wondering what to write specifically. You think hard, but you just can't think of anything suitable in a hurry.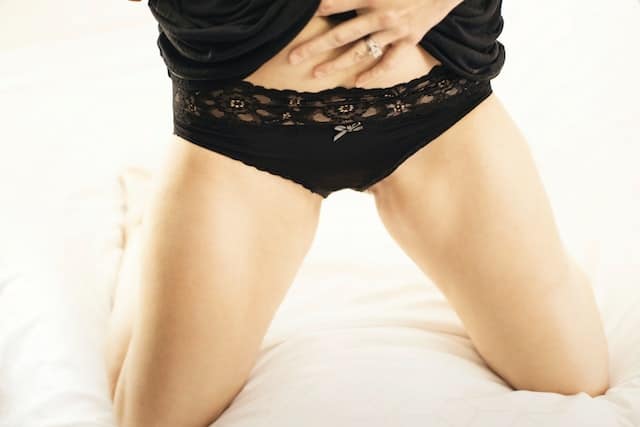 No problem! Here come our dirty talk examples for a perfect erotic teaser via mobile .
An important dirty talk tip before you start
When you send messages from our list that are appropriate for you as dirty talk texts to your crush, just be yourself. Decide on lyrics that you personally like and can also imagine coming out of your mouth.
If possible, incorporate inside jokes, personal memories, and details from your favorite sexual moments. These erotic details and sweet "asides" do a lot to make your real encounters much more meaningful. The anticipation will grow and the reunion will become more intense.
60 Dirty Talk Examples and Text Messages for Long Distance Relationships
Here are 60 dirty talk examples and text messages for long distance relationships that will make him fly to you as soon as possible:
1. "I imagine what it would be like if you were here with me now …"
2. "I bought new panties. "Want to see?"
3. "My inner thighs miss you in between!"
4. "I had a naughty dream last night, and guess who stared in it?"
5. "Have I told you how hot I get when I feel you on top of me?"
6. "I just got up and now I have this uncontrollable urge to kiss you long and hard."
7. "I'm out to lunch and… I'm not wearing any underwear!"
8. "I can't stop thinking about some very, very dirty things…Can't you help me?"
9. "My blanket is so boring, I wish I could see you on me instead!"
10. "Do you want to guess what I'm wearing right now?"
11. "I have thought long and hard about what I will do the next time I see you …"
12, "If I were next to you tonight and you had three wishes, what would they be?" *wink
13. "You make me feel so wet between my thighs!"
14. "I'm watching this dirty video online and it's really driving me wild!"
15. "My goodness, it's gotten so hot. Wait, let me take off my clothes…"
16. "Do you have any idea how much I want you right now?"
17. "I don't usually say this out loud, but you're just so sexy..."
18. "Do you think I have panties on right now?"
19. "What are you doing after work?" "I really need something from you as soon as possible."
20. "Did you know you smell so good I could practically eat you?"
21. "Appetite for tonight?"
22. "I can't stop thinking about what you did to me last night and how good it made me feel."
23. "I need your body next to me tonight. Get here soon!"
24. "I can only think of one thing right now, and that's you and me together on my bed."
25. "I can't possibly imagine sharing you with anyone because you are so fucking hot!"
26. "You drive me absolutely crazy that I can hardly stand it!"
27. "I want to share every inch of my body with you!"
28. "The first thought I had when I woke up this morning was how great last night had been!"
29. "Even though I haven't seen you in a really long time, I can still remember your body like it was yesterday!"
30. "Let's make love in front of a mirror next time so I can see how you do it to me!"
31, "I wish I could have you right now, this very moment."
32. "I like to put it in my mouth!"
33. "It drives me crazy when you pull my hair."
34. "Seriously, just come here so I can cover you in bite marks and hickeys."
35. "I'm always in the mood for you."
36. "Touch yourself and think of me."
37. "You make me want to sin."
38. "I loved seeing you in those tight pants last night."
39. "Do you think I would look better in a bralette or a crop top?"
40. "I had the wildest dream ever last night, and guess what, you were in it!"
41. "I can't stop thinking about last night."
42. "I'm looking forward to our date tonight. You're going to love what I have planned for you!"
43. "Even though last night was our first time, I'm already hooked on you!"
44. "What are your plans later? Can I come over for a quickie?"
45. "I don't like sitting here at work when I could be at home doing it with you."
46. ​​"I just thought of a new position we should definitely try!"
47. "I miss feeling your hands all over me."
48. "I want to mark you as mine, and I have sharpened my nails!"
49. "You will cry out my name tonight."
50. "Tonight is all about pleasure and pain!"
51. "I will bring out the beast in you tonight!"
52. "You want to know what I can't stop thinking about?"
53. "I am all alone and imagine you caring for me. I so wish you were here."
54. "Do you remember the time in the hotel?"
55. "I always wanted to do it in a car…"
56. "Would you like to play a game with me?" I get tied up and you make the rules."
57. "How about we skip dinner and you can eat me instead?"
58. "I miss you… inside me!"
59. "I will present you with an indecent choice and it will not be easy for you to decide."
60. "Comm. Her. Now."
Sexting examples for even more erotic sizzle
If your crush or partner really likes your dirty talk teasing, then you can follow up with the following sexting suggestions and heat up the erotic mood even more.
Looking for more erotic sex messages and creative lines to make him really hot and spicy? Here are some naughty chatlines and sexting examples for you to make your sexting chats and dirty talks wonderfully erotic. Caution: explicit content 😉
1. "I loved seeing you last night in that shirt/jeans/top/slip".
2. "Do you think I would look better in a skirt or skinny jeans?"
3. "Have I told you what I call my breasts yet?"
4. "I can't stop thinking about you, get out of my head!"
5. "I know last night was our first time, but I think I'm already addicted to your cock."
6. "I'm going to wear my fuck-me heels for our date tonight."
7. "What are you doing later?" Can I come over to give you a blowjob?"
8. "Tonight I want to kiss my way slowly down from your lips…the only question is how far down will I go?"
9. "I don't like sitting here at work when I could be at home doing dirty things with you."
10. "I've just been lying in bed for the last hour thinking about you... guess what I did while I was doing it."
11. "I just found this cool sex site on the internet…. it gave me some great ideas for later."
12. "When was the last time you jerked off?"
13. "I was thinking about something…would you get mad if you found out I kissed a girl while we were together?"
14. "I found some sex positions that I think we should try, what do you say?"
15. "I miss feeling your hands all over me. I want you to rip off my clothes and really soak me."
16. "I think it's time to try anal."
17. "Does the thought of watching me with another girl turn you on?"
18. "You have a choice tonight: anal or oral. So what will it be?"
19. "If you can guess what color my bra is today, I'll give you an unforgettable blowjob tonight."
20. "Do you want FaceTime sex now?"
There are absolutely no limits when it comes to sending dirty talk text messages to your partner over long distances. As soon as you use one of these lines, your conversation is sure to take leaps and bounds, sending your thoughts into sexual overdrive. I wish a lot of fun and an erotic pleasure...